Are you ready to take the plunge and buy land to build your dream home? You just took a big step! Buying land and building on it can be an exciting, yet challenging process. From finding the perfect plot of land, securing financing, and drawing up plans for your dream home – it's a lot of hard work. But don't panic – with proper planning and research you can get through this process without a hitch. Here we'll outline 7 essential steps that will help you navigate the journey from start to finish so you can turn your vision into reality.
Create a plan for the type of home you want and what features it should have
It is imperative to devise a comprehensive plan that outlines the desired features when acquiring land and constructing your dream home. What style do you prefer – traditional, modern, Mediterranean? How many bedrooms and bathrooms will you need? Is there a particular open floor plan or interior design that appeals to you? Your answers to these questions will help shape your plans for the type of home you want to build. If you're undecided, take some time to look up design ideas online or visit model homes in your area for inspiration. 
Also, be sure to consider how much space you will need and what kind of property maintenance may be required over the years. Thinking carefully about these details beforehand can help ensure that your vision becomes a reality.
Research potential land locations to find what's best for you
If you're in the market for buying land, researching potential locations should be at the top of your list. Determining what factors are important to you, such as accessibility, proximity to schools, or natural scenery, can help streamline your search and find the perfect plot of land. It's also important to think about the potential resale value of the land and what kind of development may be happening in the surrounding area. Maybe you're interested in learning more about Colorado and the opportunities it provides for outdoor recreation and adventure. Whatever your preferences may be, taking the time to research potential land locations will help ensure that you make a sound investment and find a spot that truly feels like home.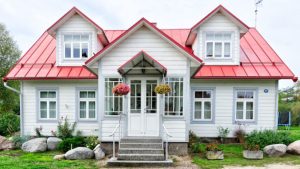 Calculate the budget needed for buying land and building your dream home
Determining the total budget needed for your dream home is essential to ensure that you have the necessary funds in place. This includes the cost of buying land, building materials and labor, permits and inspections, and any other fees associated with constructing a new home. It's important to do your research so you know what kinds of costs to expect when creating your budget. Factor in the cost of materials and labor, as well as any additional fees such as building permits or inspections. 
If you plan to hire a contractor, get multiple quotes so that you can compare prices. Keep in mind that there may be hidden costs associated with buying land and building on it – make sure you factor these into your budget.
Obtain financing for the land purchase and construction costs
Securing financing for both land purchase and construction costs is absolutely essential to make your dream home a reality. First things first, check with your bank or local lending institution for suitable loan options. You may need to provide documents such as identification, credit reports, financial statements, and proof of income in order to qualify. Additionally, certain lenders may require additional paperwork such as rental agreements or business plans if you are planning to build on the land for commercial purposes. 
Once approved, it's important to compare rates and read over the loan documents carefully in order to be sure that you understand all of the terms and conditions before signing.
Hire an experienced surveyor to accurately measure the property boundaries
An effective survey can help ensure that there are no surprises when it comes to the size of the parcel and its location in relation to the surrounding area. The surveyor will provide a detailed map that outlines the dimensions of the land, as well as any structures such as buildings, fences, or landscape features that are located within the boundaries. Additionally, they will also be able to identify any possible zoning restrictions that may affect your construction plans. Working with an experienced surveyor is key in order to make sure that you have all of the information necessary for a successful land purchase and home build.
Choose an architect or designer who will create detailed plans for your dream home
Finding the right architect or designer to bring your vision to life is not an easy task But it's essential to ensure that your home is designed with precision and attention to detail. Look for someone who has experience working on projects similar to yours, as well as knowledge of local building codes and regulations. Also consider their portfolio, qualifications, and overall reputation before signing on the dotted line. A good architect or designer will be able to create a set of detailed plans that capture all of your desired features, from the style and layout of the home to any special features you may have in mind. They should also be able to break down construction costs and help guide you through the entire process from start to finish.
Work with a contractor to ensure that your new home is built according to plan and on time
Finding a skilled and reputable contractor is key in order to ensure that your dream home is built according to plan and on time. You want to make sure that the contractor you choose has an excellent track record of delivering quality workmanship and adhering to budgets and timelines. Request references from previous clients, do research online or ask friends for recommendations when selecting a contractor. Once you find the right one, they will be able to help with everything from supervising the construction crew to ordering materials and ensuring that all building codes are met. Throughout the process, it is important to stay in constant communication with your contractor so that any issues can be addressed as soon as possible.
Buying land and building your dream home is a complex process that requires careful planning and attention to detail. By following these essential steps, you can make sure that all of the necessary pieces come together so that your vision becomes a reality. From researching potential locations to creating plans for the type of home you want and hiring experienced professionals to help with construction, there are many factors that can influence the success of your project. With the right resources and a little bit of patience, you can turn your dream into reality.