Horse riding is a captivating and exhilarating activity that offers a unique bond between humans and these majestic animals. However, it's essential to prioritize safety to ensure a positive and secure experience for both the rider and the horse. Whether you're a novice rider or an experienced equestrian, these eight tips will help you enjoy a safe and enjoyable horse-riding adventure.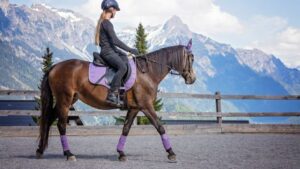 Inspect Tack and Equipment
Before mounting your horse, thoroughly inspect all tack and equipment. Many reputable equestrian shops offer high-quality equipment if you lack the gear to ride. Check the saddle, bridle, girth, and stirrups for any signs of damage or wear. It's essential to ensure that your equipment is in excellent condition to prevent accidents and discomfort for you and your horse. Look for any frayed stitching, cracked leather, or loose buckles that might compromise the integrity of your equipment. Additionally, pay attention to the fit of the saddle and bridle – they should provide adequate support without causing any undue pressure points. Properly fitting and well-maintained equipment enhances safety and comfort during your ride.   
Wear Proper Riding Attire
Dressing appropriately is crucial for your safety. Wear a certified riding helmet to protect your head in case of a fall. Additionally, opt for sturdy boots with a low heel to prevent your foot from slipping through the stirrups. Long pants and gloves can offer extra protection against friction and sunburn. Choose clothing that allows for easy movement while riding, such as riding breeches or jeans with stretch. A well-fitted riding shirt and comfortable gloves will help you maintain a secure grip on the reins and confidently handle your horse, ensuring a more enjoyable and controlled ride.
Attend Riding Lessons
Even experienced riders can benefit from regular riding lessons. Proper instruction helps refine your technique, enhance your communication with the horse, and learn valuable safety protocols. Classes also provide a structured environment where you can build skills progressively. Instructors can give personalized feedback to address specific areas of improvement, allowing you to reach new proficiency levels and bond better with your horse. Whether you're a novice or an advanced rider, ongoing lessons contribute to a deeper understanding of horsemanship and a strengthened partnership between you and your equine companion.
Warm Up and Cool Down
Before your ride, warm up your horse with gentle exercises to prevent strains and injuries. After riding, cool down your horse by walking or trotting to reduce the risk of muscle stiffness. A proper warm-up and cool-down routine benefits both horse and rider. It helps increase blood flow, loosen muscles, and mentally prepare both of you for the upcoming activity. Additionally, incorporating stretching exercises during the cool-down can aid in maintaining your horse's flexibility and overall well-being, promoting a healthier and more enjoyable riding experience for you both.
Opt for the Appropriate Terrain
Selecting suitable terrain for your ride is crucial. If you're a beginner, opt for flat and well-maintained trails. As you gain experience, you can gradually explore more challenging terrains. Always be aware of the conditions, such as wet or uneven ground, that can impact your horse's footing. Remember that different terrains offer unique benefits and challenges, so tailor your choice to your riding goals and your horse's capabilities. Whether you're enjoying a leisurely ride through a scenic landscape or seeking a more intense workout, adjusting your terrain choice ensures a safe and rewarding ride for you and your equine partner.
Choose the Right Horse
Selecting the appropriate horse for your riding experience is paramount. If you're a beginner, opt for a calm, well-trained horse matching your skill level. Experienced riders may seek more spirited mounts, but always choose a horse with a temperament that aligns with your abilities and confidence. Prioritize building a harmonious connection with your chosen horse, as a solid rider-horse partnership is built on trust and mutual understanding. Regular interaction and positive experiences will contribute to a fulfilling and enjoyable journey in equestrianism. Here are some tips for choosing the right horse for a pleasant riding experience:
Assess Your Skill Level:

Choose a horse that matches your riding experience and skill level. If you're a beginner, opt for a well-trained, calm horse used by novice riders. Intermediate and advanced riders can consider horses with specialized training or skills that align with their riding goals.

Evaluate Temperament and Compatibility:

Ensure the horse's temperament aligns with your personality and riding style. Some riders prefer spirited horses, while others may be more comfortable with a gentle, laid-back character. Building a positive rapport and compatibility with the horse is crucial for a successful partnership.

Conduct Test Rides:

Spend time riding the horse before making a decision. Test rides allow you to assess the horse's responsiveness, behavior, and comfort level under your guidance. Pay attention to how the horse responds to cues and its gait and handles different situations well.

Seek Professional Guidance:

Enlist the help of experienced equestrians, trainers, or professionals when choosing a horse. They can provide valuable insights and objectively assess the horse's suitability based on your riding goals and preferences. A knowledgeable advisor can help you make informed decisions and avoid pitfalls.
Remember that choosing the right horse involves careful consideration and patience, as building a solid and harmonious rider-horse partnership is essential for a safe and fulfilling riding experience.
Maintain Good Communication
Establishing clear communication with your horse is essential. Learn basic commands and cues to guide the horse's movements. Maintaining a steady and confident posture, using your reins correctly, and applying gentle pressure with your legs are all integral to effective communication. 
Remember that horses are sensitive and responsive creatures, so be attentive to their cues and reactions. Developing a deep understanding of your horse's body language and individual preferences will help you forge a stronger connection and achieve a more harmonious and prosperous riding experience.
Ride with a Companion
Whenever possible, ride with a companion. Riding alone can be risky, especially in unfamiliar areas. Riding with a friend provides extra safety and ensures that assistance is readily available in an emergency. In addition to the safety aspect, riding with a companion can also enhance the enjoyment of your rides through shared experiences and camaraderie. Exploring the trails and enjoying the company of fellow riders can make each outing more memorable and fulfilling for you and your riding partner.
A secure horse riding experience is achievable by following these eight essential tips. Choosing the right horse, wearing proper attire, attending lessons, maintaining good communication, warming up and cooling down, inspecting equipment, selecting appropriate terrain, and riding with a companion create a foundation for an enjoyable and safe equestrian adventure. Remember, safety should always be your top priority, allowing you to forge a solid and harmonious connection with your equine partner while exploring the world on horseback.