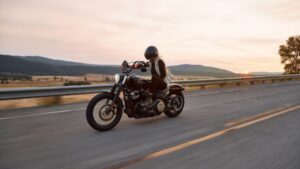 Motorcycling offers an exhilarating experience, with the freedom of the open road and the wind in your face. However, it comes with inherent risks, and being prepared for potential accidents is crucial for every rider. No one wants to think about accidents, but they can happen to even the most experienced riders. Therefore, it is essential to equip oneself with the knowledge and tools to mitigate risks and stay safe on two wheels. 
In this crash course on motorcycle accidents, we will delve into nine must-have tips for riders to enhance their safety and minimize the chances of an unfortunate event.
Invest in Quality Safety Gear
When motorcycling, safety gear can be a lifesaver. Wearing the right equipment not only protects you from severe injuries but also enhances your visibility on the road. A sturdy, full-face helmet is the most crucial piece of safety gear, as it safeguards your head and face during a crash. Besides a helmet, invest in high-quality riding jackets, pants, gloves, and boots, designed specifically for motorcycling. These garments are often reinforced with armor to protect vulnerable areas like your elbows, shoulders, and knees.
Moreover, don't forget about reflective or brightly colored clothing to increase your visibility to other drivers, especially during low-light conditions. Consider adding reflective tape or stickers to your motorcycle as well. Remember, safety gear is not just for style; it is an investment in your well-being on the road. So, don't cut corners when purchasing safety gear, and always opt for the best quality you can afford.
Master Defensive Riding Techniques
Defensive riding techniques are a rider's best friend when trying to prevent accidents caused by other road users. Defensive riding is all about being proactive and aware of potential hazards. One crucial aspect is maintaining a safe following distance from the vehicle in front of you. This gives you ample time to react and stop in case of sudden braking or unexpected maneuvers. Additionally, constantly scanning your surroundings and using your mirrors can help you anticipate potential threats.
Another essential defensive riding technique is mastering the art of braking. Practice emergency braking in a controlled environment to know your motorcycle's braking limits and how to apply both front and rear brakes effectively. By doing so, you can significantly reduce your stopping distance in critical situations. Remember, being a defensive rider is not about being fearful, but about being prepared and staying in control at all times.
Be Prepared for Emergency Situations
Even with all the precautions in place, it's essential to be prepared for unforeseen emergencies. Carry a basic first aid kit with you, as well as emergency contact information. If you're embarking on a long trip, inform someone trustworthy about your route and the estimated time of arrival. In case of a breakdown or accident, having someone who knows your whereabouts can be invaluable.
Additionally, consider taking a basic motorcycle repair course to learn how to handle minor mechanical issues on the road. Carry essential tools, spare fuses, and a tire repair kit to address common problems that may occur during your journey. Being prepared for emergencies gives you peace of mind and ensures you can handle adverse situations with confidence. 
In the unfortunate event of a motorcycle accident, it's crucial to know your rights and seek professional advice. Familiarize yourself with a reputable motorcycle accident attorney in San Diego, CA, or any other location, who can provide legal guidance and support during such challenging times. Consider carrying an emergency supply of water and non-perishable food items in your motorcycle's storage space. This ensures you stay nourished and hydrated during unexpected delays or if you find yourself stranded in remote areas, away from immediate assistance.
Stay Educated and Refresh Your Skills
Even seasoned riders can benefit from ongoing education and skills refreshers. Participate in advanced rider training courses to enhance your riding abilities and learn advanced techniques from experienced instructors. These courses often include practice sessions on obstacle avoidance, cornering, and emergency maneuvers, which can be invaluable in real-life situations.
Furthermore, stay up-to-date with the latest safety trends and research related to motorcycling. Being informed about new safety technologies and gear advancements can help you make better choices in selecting the right equipment for your rides.
Be Mindful of Road Conditions and Weather
The environment in which you ride plays a significant role in your safety on a motorcycle. Different road conditions and weather elements can present unique challenges for riders. Always be mindful of the road surface and its condition. Wet or icy roads can significantly reduce traction, making it essential to adjust your speed and braking accordingly. Leaves, gravel, and oil spills can also pose dangers, especially when taking corners or braking.
Weather conditions are equally critical to consider before embarking on a ride. Rain, fog, or strong winds can affect visibility and motorcycle handling. Before heading out, check weather forecasts and plan your route accordingly. If adverse weather conditions are predicted, consider postponing your ride or finding alternative transportation. Your safety should always take precedence over any other factors.
Know Your Limits and Avoid Riding Fatigued
Knowing your limits as a rider is essential for your safety. Riding long distances without taking breaks can lead to fatigue, impairing your reaction times and decision-making skills. Make sure to take regular breaks during extended rides to rest, hydrate, and stretch your body. If you feel tired or drowsy, it's best to find a safe place to stop and take a nap or find alternative transportation to reach your destination.
Moreover, it's crucial to be aware of your physical and mental state before getting on your motorcycle. Avoid riding under the influence of alcohol or drugs, as impaired riding can have disastrous consequences. Similarly, riding while emotionally distraught or excessively stressed can affect your ability to focus and react appropriately to road situations. Always prioritize your well-being and emotional state before hopping on your bike.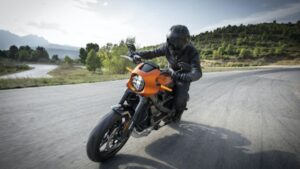 Develop a Defensive Mindset
Having a defensive mindset is not only about defensive riding techniques but also about anticipating the actions of other road users. Always assume that other drivers might not see you or might not correctly predict your movements. Stay vigilant at intersections and when changing lanes. Avoid riding in blind spots, and use your horn or headlights if necessary to grab the attention of other motorists. A defensive mindset keeps you prepared for the unexpected and can prevent accidents caused by the carelessness of others.
Practice Effective Communication
Effective communication on the road is vital for ensuring your safety as a motorcyclist. Non-verbal cues can be powerful tools to signal your intentions to other drivers. Always use your indicators when turning or changing lanes, and make clear hand signals when necessary. Make eye contact with drivers at intersections to ensure they see you before proceeding. Additionally, consider installing a horn with a distinct sound to alert drivers who might not be aware of your presence.
Moreover, communication also extends to group riding scenarios. If you're riding in a group, establish a clear system of hand signals or intercom communication to keep everyone informed of any changes in direction or potential hazards. Staying connected and communicating effectively within the group enhances coordination and minimizes the risk of accidents.
Maintain Your Motorcycle Regularly
Regular motorcycle maintenance is not only essential for optimal performance but also crucial for safety. Before every ride, conduct a quick inspection of your motorcycle. Check the tire pressure and tread depth, ensure all lights are working correctly, and inspect the brakes. Regularly change the engine oil, and keep the chain or belt properly lubricated and tensioned. Follow the manufacturer's maintenance schedule and get your motorcycle serviced by a professional mechanic at the recommended intervals.
Remember that a well-maintained motorcycle is more reliable on the road and less likely to develop sudden mechanical issues that could lead to accidents. Ignoring maintenance can not only jeopardize your safety but also lead to expensive repairs in the long run. Invest time and effort in keeping your motorcycle in top condition to enjoy a smoother and safer riding experience.
Effective communication, regular motorcycle maintenance, and preparedness for emergencies are crucial aspects of motorcycle safety. By incorporating these practices into your riding routine, you enhance your safety and that of others around you. Safety should always be a top priority for every motorcyclist, and by staying proactive and informed, you can enjoy the freedom of the open road while minimizing risks. Ride responsibly, stay prepared, and make every journey a safe and enjoyable one.