Being an outdoor sports enthusiast, you know how important it is to always protect your eyes from harmful sun rays while performing your favorite sports. 
But while trying to get the best eyeglasses to keep your eyes safe, you might have been exposed to several designs of athletic sunnies, which could make choosing one out of several fashionable sunglasses almost impossible.
However, recent innovations have introduced several unique eyewear to suit different personalities.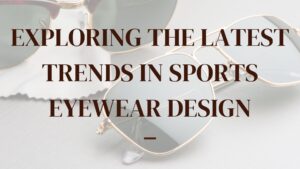 Technology has improved these eyewear options from regular eyeglasses by producing prescription glasses, such as Oakley prescription sunglasses for those with specific eye needs, wraparounds, and more.
So whether you want to keep the bugs out of your eyes, prevent excess breeze while running on the track, keep water out while swimming, or just want to hop on the trend and treat yourself to that dashing summer look, whatever might be the case, there's always going to be one that suits your preference.  
Similar to ever-evolving fashion trends, sports eyewear is constantly evolving, and you don't want to avoid getting just any type. 
Through this article, we will explore the various stylish athletic sunnies in vogue and help you find one that best protects your eyes and complements your kind of sports and style.
5 Of The Latest Sports Eyewear Designs In Vogue
There are several sports eyewear out there. But here are the most trendy ones you should get your hands on. They include: 
The Wrap-around Sunglasses
Having evolved from aviators in the 1960s, wrap-around sunglasses have become a part of fashion and sports.
These sunglasses protect your eyes from the sun's rays by clinging to the contours of your face. This stops the sun from peeping around the edges and reduces the glare and bright spots that affect your vision when you're outside.
For example, regular fashion sunglasses make you look cool and dashing but do not keep the sun out. But like Oakley, sports sunglasses make you look cool and protect you from ultraviolet rays. 
Of what use is a sunglass if it lets too much sun in? This makes wrap-around sunglasses a suitable alternative to fashion sunglasses. 
Wrap-arounds serve numerous purposes and are perfect for you if you're skydiving or racing. They help you see clearly without having to shield your eyes from the sun's piercing rays.
If you ever search for sunglasses that offer two shades in one, photochromic eyeglasses are the best fit.
While appearing as ordinary eyeglasses, photochromic eyewear automatically turns dark when you're in the sun. This results from the reaction between the molecules in its lenses and the sun. 
These lenses turn dark once they come in contact with bright light while giving you the best vision in any lighting condition. They are also called transition lenses.
Now, while the trend in eyewear is on the rise, there are no designs or lenses for people with eye defects. 
But the truth is there is! There is a whole trend for you, and they are prescription sunglasses.
Prescription sunglasses are designed with customized lenses to correct your vision. These sunglasses are perfect for athletes with refractive errors in the eyes. 
These shades serve several purposes, including completely protecting your eyes from harmful radiation.
They also stand as tough protection for the skin around your eyes, thereby protecting the soft layers from sunburn.
Some prescription eyewear, like Oakley prescription glasses, offers the advantage of selecting the material and style for your desired pair to enable you to carry out your outdoor sports as much as you would want. 
Polarized Sports Sunglasses
These sunglasses are a must-have for numerous outdoor activities. These shades cut down harsh glare, which can distort color and affect your vision.
An exemplary display of the benefits of polarized glasses can be experienced while fishing. This sunshade lets you see beneath the water's surface, making your next catch a lot easier to spot. 
While driving or cycling, polarized sun shades keep your vision comfortable by cutting down glare, especially if you're running near water bodies. 
Special Feature Sunglasses
Advancements in technology also extend to sports sunglasses. Like smart watches track our calories, there are sunshades with features like GPS, voice assistant, and in-built effects that help track and monitor our heart rate. 
These unique features enable you to track your performance during and after your sports activity.
5 Key Features Of Good Sports Eyewear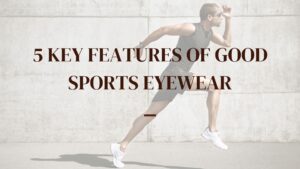 1. Comfort And Stability
No one wants sunglasses that constantly shift or move when they engage in their favorite sports.  
If you participate in an extreme sport like skydiving, ensure you get sunglasses that securely fit your face. You should go for lightweight frames that fit perfectly around your eyes and under your helmet when wrapped.
   2. Polycarbonate Lenses
These lenses are hyped for their resistance to scratches, making them a good choice for contact sports. 
The frames of these lenses are made of plastic with superb resistance to impact, and they also come with rubber padding to avoid hurting your face.
   3. Personality
While this could be easily ignored, you must get sunglasses that suit your style.
This will add excitement to your sports and also boost your convenience. For people who love masculine sunglasses, try Oakley sun shades for men. 
Acquiring a sunshade that fits your personality can serve dual purposes: protecting your eyes and being fashionable.
   4. The Tint
So many lens colors are in vogue, so extreme care must be taken to ensure you pick the right tint. 
In the past, if you chose green-tinted glasses, the color of the lenses would also be green. Ensure that the color doesn't affect the tint; even if it does, ensure it is the right tint so it doesn't affect your eyes.
   5. Durability
Good athletic sunnies must be durable. While lenses are not entirely water resistant, they should be able to endure certain conditions.
The frames, too, should be able to withstand frequent use. 
Trendy Sports Sunglasses
Sports sunglasses are very fashionable even while they protect your eyes. And there's absolutely nothing wrong with hopping on trendy sports eyewear.  
Technological innovations have made athletic sunnies even more unique by conferring several specific features, which include artificial intelligence, making them good alternatives for regular smart glasses.
However, ensure that while getting trendy sports eyewear, you get one that suits your kind of outdoor activity and also blends into your style. Remember, protecting your eyes as an athlete comes first before fashion.