Everyone needs a break from their hectic college life at some point. Study breaks refresh your mind and open up new experiences and learning opportunities. One increasingly popular way for students to unwind is by embarking on trailer travel adventures. This article will provide a comprehensive guide on preparing for your trailer vacation, followed by a list of the top 5 student trailer travel destinations to consider for your next outing.
Preparation for the Travel
Taking a study break is a wonderful idea but it requires planning and preparation to ensure a smooth trip. Here are five essential steps you must consider before hitting the road.
Finish All Homework
Your study break should be relaxing, not stressful. Before you leave, make sure you've completed all pending homework and assignments. Services like GrabMyEssay can be incredibly helpful if you're swamped and need writing assistance. Finishing your academic tasks will enable you to enjoy your break without looming deadlines fully.
Create a Budget
One of the key components of a successful trip is setting up a realistic budget — factor in gas, food, camping fees, and entertainment. Failing to plan financially could leave you stressed during a relaxing time.
Inspect the Trailer
You don't want to face breakdowns or mechanical issues while trying to unwind. A thorough trailer inspection beforehand can save you from unexpected hassles and safety risks.
Pack Wisely
Since you're traveling in a trailer, you have limited space. Prioritize your essentials and pack only what you'll use. Remember, you're going for a break, not relocating.
Know the Route
GPS is reliable, but it's always better to have a good understanding of your route. Familiarize yourself with key landmarks and stops so you won't get lost or in an undesirable location.
Top 5 Student Trailer Travel Destinations
Exploring new places can provide fresh perspectives and enriching experiences. Here are the top 5 student-trailer travel destinations that offer a combination of beauty, adventure, and relaxation.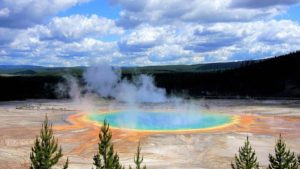 1. Yellowstone National Park, Wyoming
Yellowstone is home to a rich variety of wildlife, including bison, wolves, and elk, making it a hotspot for animal enthusiasts. Its geothermal features, like the Old Faithful Geyser and the vibrant Grand Prismatic Spring, are must-see natural wonders.
Activities:
From hiking and biking to fishing and boating, Yellowstone has it all. The park is also a great place for bird-watching and has designated areas perfect for picnicking.
Accommodations:
The park has several campgrounds that are trailer-friendly. However, these spots can fill up quickly, especially during the summer.
Downsides:
Yellowstone can be crowded, especially during peak seasons like summer and early fall. Amenities like Wi-Fi and cell reception can also be sparse, so be prepared for a possible digital detox.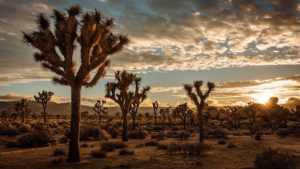 2. Joshua Tree National Park, California
This park features a unique mix of the Mojave and Colorado deserts, resulting in a fascinating array of flora and fauna. The rock formations provide excellent opportunities for rock climbing and bouldering.
Activities:
Beyond photography and stargazing, you can engage in hiking, horseback riding, and nature walks. The park offers several well-marked trails, ranging from easy to challenging.
Accommodations:
Joshua Tree has multiple campgrounds, but amenities like water and electricity are limited, making it essential to come prepared.
Downsides:
The extreme temperatures, especially in the summer, can be daunting. Also, due to the park's growing popularity, finding a camp spot without a reservation can be difficult.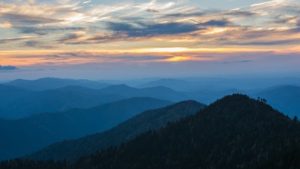 3. Great Smoky Mountains, Tennessee/North Carolina
The Smokies are a UNESCO World Heritage Site, known for their mist-covered mountains and rich biodiversity. They offer an authentic Appalachian experience.
Activities:
You can explore the various trails, go fishing in the streams filled with trout, or take a scenic drive through Cades Cove to see historical buildings.
Accommodations:
The park has several campgrounds that accommodate trailers, though you'll find more rustic settings than luxury amenities.
Downsides:
The area has limited cell reception and no gas stations within the park. Also, those unfamiliar with "roughing it" may find the lack of amenities challenging.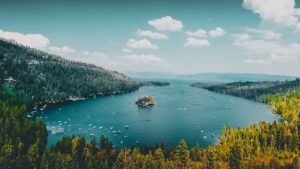 4. Lake Tahoe, California/Nevada
Lake Tahoe offers stunning vistas of crystal-clear water surrounded by mountain ranges. Whether you're looking for water sports or mountain adventures, it has something for everyone.
Activities:
Summer activities include kayaking, paddleboarding, and swimming. In winter, the area transforms into a snowy paradise suitable for skiing and snowboarding.
Accommodations:
Various campgrounds and RV parks around the lake offer trailer-friendly spots, some even providing full hookups.
Downsides:
Lake Tahoe is one of the more expensive travel destinations. Activities, dining, and camping fees can add up quickly, making it important to budget carefully.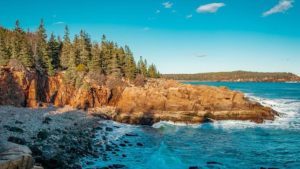 5. Acadia National Park, Maine
Acadia offers a unique mix of rocky coastline and forested mountains. The park is famous for its sunrise views atop Cadillac Mountain, the first place to see the sunrise in the U.S. during certain times of the year.
Activities:
From hiking and biking to tide-pooling and bird-watching, Acadia offers a variety of outdoor activities. Don't forget to visit the iconic Bass Harbor Head Lighthouse.
Accommodations:
The park offers two campgrounds that can accommodate trailers, but spaces are limited and often require reservations well in advance.
Downsides:
The weather in Acadia can be highly unpredictable, varying from warm and sunny to cold and rainy within a single day. Amenities are also limited, so come prepared.
Final Takeaways
Trailer travel offers students an affordable and flexible way to take study breaks. You can have an enriching and memorable experience with proper planning and the right destination. However, every goal comes with its challenges, from crowds to cost. The key is to balance your desires with your resources to create a trip that will rejuvenate you and broaden your horizons. Happy trails!
BIO
Ruby Butz is a seasoned travel blogger focusing on sustainable and budget-friendly student travel options. With a background in journalism and a passion for outdoor adventures, she has extensively explored various national parks and camping sites across North America. Her articles often include practical tips and firsthand experiences to guide students in balancing study commitments with the thrill of wanderlust.