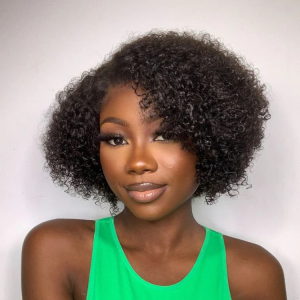 The beauty and efficacy of curly wigs are unmatched, but you can enhance your look better by getting short curly wigs. They've been around for a while and can only get more popular. A pro tip to get the best out of any short curly wig is to purchase a quality unit from a top store.
Luvme Hair is one of the best places to get short curly wigs. It has them and many other types, which you can access when you visit the site.
This article will introduce you the basic information about Luvme Hair short curly wig. You'll learn what they are and why you should consider buying them.
Table Of Contents
What are Short Curly Wigs?
Why Should You Buy Short Curly Wigs?
Who Can Wear Short Curly Wigs?
How to Wear Short Curly Wigs?
What are Some Top Luvme Hair Short Curly Wigs?
How to Maintain Your Short Curly Wigs?
Conclusion
What are Short Curly Wigs?
Short wigs are wigs that are less than 14 inches. A curly wig is any that has the texture of a natural curly hair. That means its surface is in spirals or ringlets.
Therefore, a short curly wig is any wig with a curly texture and length less than 14 inches. Curly wigs appear shorter than other textures. The reason is that manufacturers measure them before they curl them, making the wig appear shorter.
For instance, an eight-inch straight wig will reach the base of an adult's lady's face, while you might need nine or ten inches if it's curly.
Luvme Hair's short curly wigs are 100% human hair, which makes them more natural and appear as though you're on your actual hair. Synthetic curly wigs exist, but Luvme Hair only has high-quality human hair units.
Short curly wigs come in many densities, colors, lengths, and curly types.
Why Should You Buy Short Curly Wigs?
Here are some of the benefits of buying Luvme Hair short curly wigs.
1.   It's Cheaper and Easier to Maintain
You can bet you'll use fewer hair products on short curly wigs than on long ones. Therefore, you won't need to spend money replacing them now and then. You'll also spend less time maintaining them, whether washing or brushing.
2.   It's Lightweight
Curls can be "heavy" when compared to other texture types. However, this is only ever a problem if you purchase long units. An 8-inch Luvme Hair curly wig will cause no inconvenience, no matter how long you wear it, making it more comfortable.
3.   It's Easier to Brush
Brush your curly wigs anyhow, and it can frizz. At the same time, you still need to detangle it somehow. However, this is majorly an issue with long wigs.
Use a wide-toothed comb to work through your short wigs. You can also use your fingers to gently detangle it without taking much of your time. An essential thing to note is that you should be gentle when brushing or detangling it.
4.   Versatile Styling Option
Short curly wigs have numerous styling options for you. You can wear them in bangs and bobs or explore other hairstyle options. Plus, it's relatively easier to style a short wig than a longer one.
Who Can Wear Short Curly Wigs?
Curly wigs are for everyone. If you have naturally curly hair or want to wear a wig of the texture, you can purchase one of Luvme Hair's units and have fun with it. Aged people can also wear it, making the face look young and vibrant. Women of different facial shapes can also wear it, although it's mostly popular among those square or angular faces.
How to Wear Short Curly Wigs?
Most of Luvme Hair's curly wig options are glueless installed, making it easier to do.  How to install the wig depends on the type that you purchase. However, understand that lace wigs dominate Luvme Hair's collection, and all have a similar installation process.
Here's a step-by-step process for installing Luvme Hair's short curly wigs.
Prepare your natural hair by making it as flat as possible. You can make it into braids or brush it down to make it flat.
Wear a wig cap to protect your natural hair. All Luvme Hair's unit comes with a wig cap.
Place the wig on your head and adjust it to fit. Use the combs and elastic bands to secure it to your head.
Cut off the excess lace at the front of the wig and blend the hairline to your scalp. You can skip this step if it's HD lace.
If you buy a pre-cut lace wig, you won't need to cut any excess lace because it doesn't have one. Manufacturers make it ready to wear, making it the perfect option for beginners.
You can style your wig and showcase that beauty to the world.
What are Some Top Luvme Hair Short Curly Wigs?
If there's something Luvme Hair has a lot of, it's short human hair wigs. Therefore, you almost always find what you want. All Luvme Hair short curly wigs are high quality, but some units stand out.
One is the 4c Kinky Edges Jerry Curly 5×5 Closure Lace Wig. You can also explore the Natural Black Roll Curly 4×4 Closure Lace Glueless C-Part Wig if you want a high-quality C-part curly short wig. The brand's Throw On & Go Jerry Curly No Lace Glueless Short Wig With Bangs is another top-notch option if you want the best jerry curls.
These are just the tip of the iceberg of what Luvme Hair has in stock. As mentioned earlier, you can visit the short curly wigs section of the brand's website to enter its world.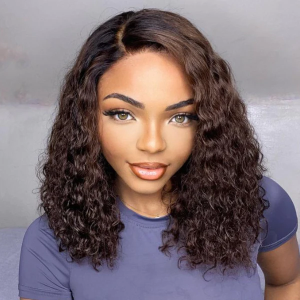 How to Maintain Your Short Curly Wigs?
You can't do much with your short curly wigs if you don't maintain them. They would get damaged long before their time, which you wouldn't fancy. Caring for a short curly wig isn't impossible, as long as you do the right thing at the right time.
Wash it properly under running lukewarm water to remove the dirt. Do it properly with a high-quality sulfate-free shampoo to get the best result. Condition it properly after the wash, and remember to detangle the wig before washing it.
Storing your curly wig is another crucial aspect. It's best to avoid squeezing it together in a box because of the curls. A wig stand is the best place to store a short, curly wig.
Conclusion
Short, curly wigs can be what you need to bring out that queen in you if you make the correct decisions. They're cheaper, easier to maintain, and let you style your hair in many ways. If you're a beginner, you should understand what they are and how to use them. You can visit Luvme Hair today to get one of its top-notch short curly wigs.