When it comes to insulating your roof, spray foam insulation is becoming an increasingly popular choice among homeowners. Not only can it help keep your home warm in the winter and cool in the summer, but it can also save you money on your energy bills. 
However, installing foam insulation requires a certain level of expertise and knowledge. That's why it's important to consult with spray foam experts who can guide you through the process and ensure that your insulation is installed properly.
In this comprehensive guide, we'll take a closer look at everything you need to know about insulating your roof with spray foam. From the different types of spray foam insulation available to the benefits and drawbacks of each, we'll cover it all. 
We'll also provide tips on how to choose the right spray foam contractor for the job and what to expect during the installation process. 
Understanding the benefits of insulation
Understanding the benefits of insulation is crucial when it comes to maintaining a comfortable and energy-efficient home. In this guide, we will explore the benefits of insulating your roof with spray foam and how it can improve the overall quality of your living space. 
Proper insulation can help regulate the temperature inside your home, reducing your reliance on heating and cooling systems and ultimately lowering your energy bills. It can also improve indoor air quality by reducing the amount of outside air that enters your home.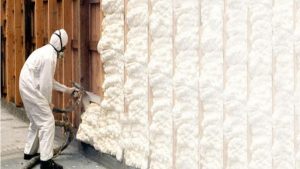 Additionally, insulation can help protect your roof from damage caused by moisture, which can lead to costly repairs down the line. By taking the time to understand the benefits of insulation, you can make an informed decision about investing in spray foam insulation for your home.
Factors to consider before installation
There are several factors you need to consider to ensure the effectiveness and safety of the installation. First, you need to determine if spray foam is the right type of insulation for your roof. 
The professional Spray foam insulation is ideal for roofs with a complicated shape or uneven surface as it conforms to the shape of the roof, providing a seamless and airtight seal. Second, you need to consider the climate in your area and the R-value of the insulation required to meet the energy code requirements. 
The R-value is the measure of the insulation's ability to resist heat flow, and the higher the R-value, the better the insulation. Finally, you need to hire a professional expert who has the necessary training and certification to ensure a safe and proper installation. Failure to consider these important factors can lead to poor insulation performance, safety hazards, and higher energy bills.
Working with spray foam professionals
When it comes to insulating your roof with spray foam, one of the most important steps is working with spray foam professionals. These experts are trained and equipped with the necessary skills and knowledge to ensure that the insulation process is executed safely and effectively. 
As a homeowner, it is important to do your research and choose a reputable spray foam company with a proven track record of success. By working with professionals, you can rest assured that the insulation will be installed correctly, minimizing the risk of leaks, moisture buildup, and other potential issues. 
Additionally, experienced professionals can provide valuable advice on the best type of insulation to use for your particular roof and climate. In this way, working with spray foam professionals is an essential step in achieving optimal energy efficiency and long-term cost savings for your home.
The installation process step-by-step
It is necessary to ensure that you have the proper safety equipment and tools. This includes personal protective equipment such as gloves, goggles, and respirators, as well as tools such as a foam gun, hose, and compressor. Once you have gathered all the necessary equipment, the installation process can begin. 
The first step is to clean and prepare the surface area to be insulated. This includes removing any debris, dust, or loose materials that may interfere with the adhesion of the spray foam. The next step is to apply a primer to the surface area to promote strong adhesion of the foam.
 After the primer has dried, the spray foam is applied in a controlled and even manner, ensuring that the area is thoroughly insulated. Once the foam has cured, any excess or uneven foam can be trimmed and smoothed to achieve a clean and uniform surface. It is important to follow all safety protocols and manufacturer instructions during the installation process to ensure a successful and safe application of spray foam.
Maintaining and caring for insulation
Maintaining and caring for insulation is an essential part of ensuring your roof continues to provide optimal insulation performance. Proper maintenance can help extend the lifespan of your insulation and save you money on energy bills in the long run. One of the most important things you can do is to regularly check for any signs of damage, such as water stains or mold growth, and address them promptly. 
Also, make sure to keep your attic well-ventilated to prevent moisture accumulation, which can compromise the effectiveness of your insulation. Furthermore, it's crucial to hire a professional insulation contractor for any repairs or updates to your insulation system, as they have the necessary expertise to ensure that your insulation is installed correctly and functioning correctly.
By taking these steps, you can ensure that your insulation system remains effective and efficient for years to come.
Overall, insulating your roof with spray foam is a wise investment that can provide numerous benefits. By hiring a professional spray foam expert, you can ensure that your roof is properly insulated, reducing your energy bills and increasing the overall comfort of your home or business. With proper maintenance and regular checks, this insulation will last for years to come.
It is crucial to choose a reputable and experienced contractor to ensure the job is done right the first time. We hope this guide has been helpful in providing valuable information and insights on the benefits of insulating your roof with spray foam.